Oftentimes, families pass down knowledge and stories of crafting from one generation to the next.  The handmade works become a symbol of family history.  Mother and daughter duo Vaiva and Liudmila run the Etsy store Woolspace.  Here's what they had to say about doing business together and how their culture shapes and influences their approach to work.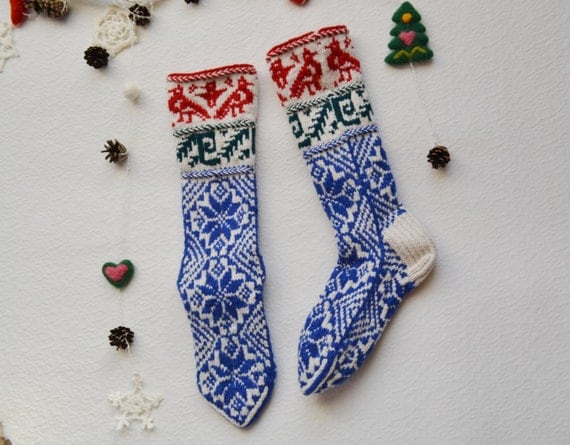 How did you learn to knit and crochet?
L. Strange, but I learned knitting naturally. My mother didn't knit so I learned it myself, of course it was very simple, only knit and purl. Later more skills were gained reading books. And I don't like crocheting:)
V. I remember I had to knit something at school but my mother did it. I learned knitting not a long time ago about a 4 years ago when I saw my mother's beautiful intarsia knitting. I asked her to teach me how to hand knit and since when I'm still in love with knitting.
What inspired you to begin a business?
L. At first I hand knitted socks only for family members but my neighbours noticed it and asked to make something special for them too. I made more socks then needed so idea of selling socks for others came naturally. Probably our story is similar to many others who make extra money from their hobby.
V. At first my mother sold socks in local markets. Later I suggested to start selling on the Etsy as seemed the best place to fit in:)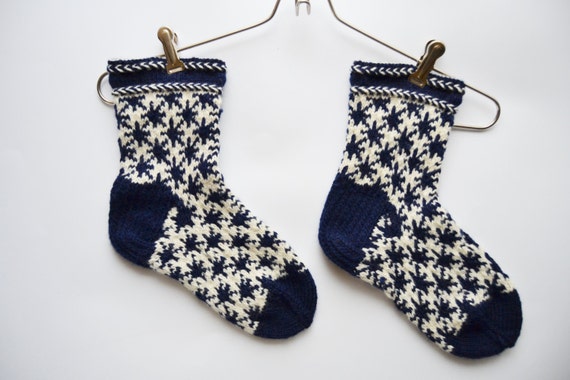 What are the benefits and disadvantages of working with family?
L. For me it's only advantages. We think very similar so there no arguments.
V. Well, yes, I don't see disadvantages too. Everything is simple as we don't keep it bussiness. It's still more hobby for us.
Where do you look for inspiration for your designs?
L. Inspiration is a process of creation. I like folk designs and try to make something unique mixing or changing them.
V. I'm only a beginner so I play more with colours as reading design charts and adopting them to certain sized socks is not so easy. Nature is my biggest inspiration.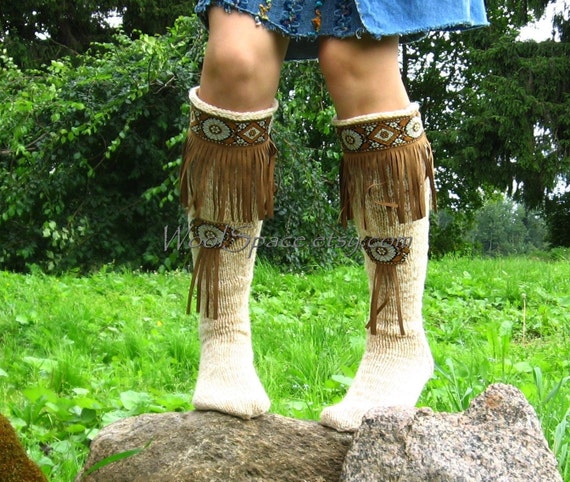 What has been the most technically challenging piece or design that you have knit?
L. My first pair of socks with intarsia design. It took almost a few weeks!
V. Every piece is challenge. Sometimes the simple design can become nervous wracking.
What do you think is the key to a successful Etsy store?
V. Hard to tell where lies the treasury of success. Of course nice Etsian style photos have influence if the items looks attractive to customers. Still it's not the main key. After trying various strategies with photos, descriptions, prices I can say that main key to success is to follow you sixth sense. Sometimes no matter what and how other shops sell the only important thing is follow the way you feel it's your way.
How did it feel to make your first sale?
Oh, our first sale gave so much joy. Every sale gives a piece of happiness too.
Any advice for those looking to start their own crafts-based business?
V. Best advice – do what you want to do and forget about others as it might distract from your way.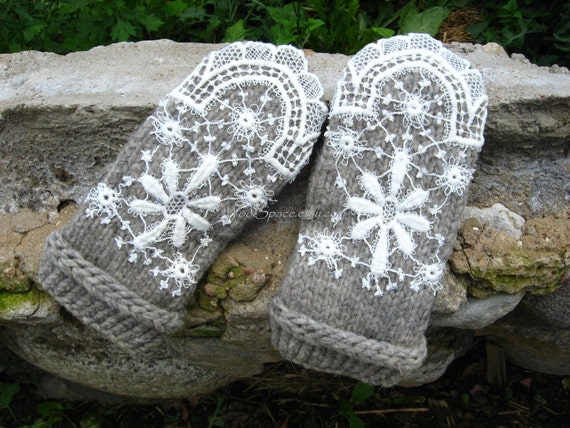 Are there any other Etsy stores that you love to follow or often browse?
V. I try not to browse other shops which sell similar items to ours. I don't want to start comparing other made pieces with ours and there's no need to bother my head by seeing copies of our made designs or stolen ideas of description, photos etc. Nobody can stop stealing ideas so only thing we can do is to change our feeling about it:)
But there are so many amazing creators in Etsy. I like browsing shops who sell unique pieces, sometimes I can't believe how creative people are. It gives a lot positive emotions.
How did you come up with the name Woolspace?
V. This name suddenly popped into my head and without much thinking we named our shop WoolSpace.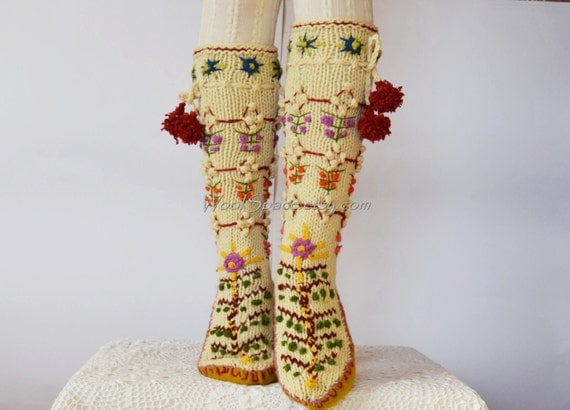 It's interesting to note that while their store does well as a business, the pair value their mother-daughter relationship first and foremost, rather than as business partners.  The innate familial bond boosts great teamwork and supports creative intuition.
All images via Woolspace.