It is so easy to make a chaotic mess when working on a big knitting project.  Supplies, notes, and yarns are strewn all over the place, tangling up together.  I just find it so difficult to be organized when I am working on something creative.
I stumbled upon Jésabelle's shop Otterburn PQ the other day.  She sells these clever little knitting bags to hold your yarn so that you can knit anywhere you go.  The bags come in various fabrics and are designed to slip over your wrist.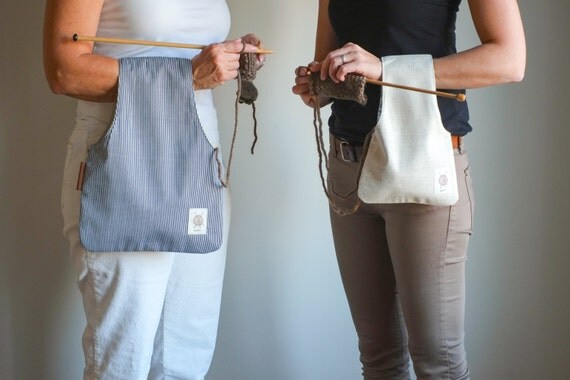 What inspired you to begin a business?
I've always sewed, with my mom usually and I would make clothing and all sorts of stuff. I made so much at one point that I figured I had to start selling some so I could get the space and then the money to make some more !
What do you think is the key to a successful Etsy store?
I think that the key to a successful Etsy shop is caring for it. You have to be committed and always try to make it better. It shows when the owner takes care of there shop. New articles, great profile story, good pictures, etc.
How did it feel to make your first sale?
The first sale feels amazing ! It really is crazy. You think then that everything is possible. You also think : I hope they don't realize I don't know what I'm doing…
At first, the shop was just for fun, to see if it would work. Then it started to be a real job. I'm so thankful for every sale I make. I'm so lucky to be doing what I like.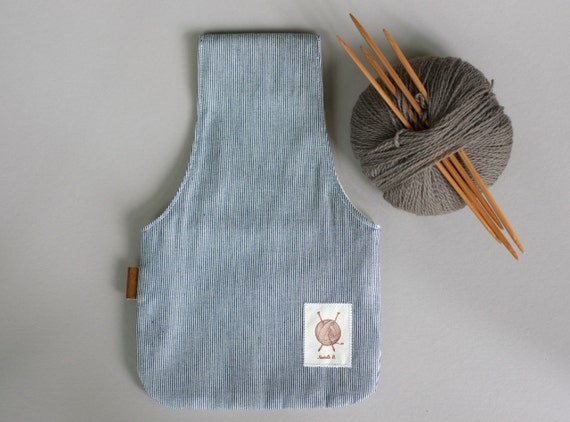 Are there any other Etsy stores that you love to follow or often browse?
I love Thimble and Accorn.
She has a great style, simple but great pictures and obviously super nice women's clothing.
In the description, many of the designs are based off your great-grandmother's version. How else has she been an inspiration to this business and in your life? Do you come from a family of crafters?
My whole family sews. But my mom is the one that inspires me and helps me the most. I couldn't do it without her. She showed me how to use a sewing machine and made me redo a lot of stuff back in the days… Today, we work well together and she is the best « employee » ever ! She rocks !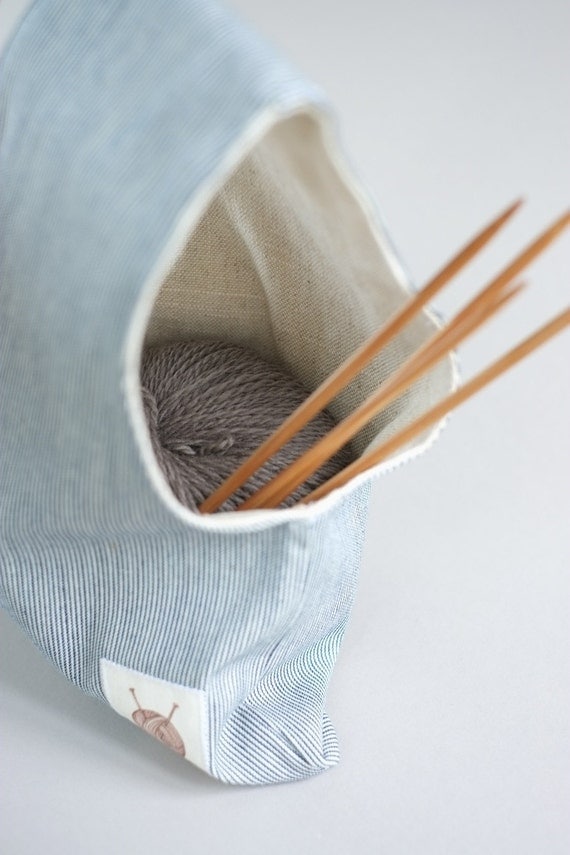 I love the muted shades of grey and denim blues of the bags. How did you come up with this selection of colors and natural materials?
The fabrics I use for my Knitting Bags are for me classics. You really can't go wrong with Denim, Linen or blue and white Stripes…
Plus, I like that the yarn you are using is the star. That said, I'm planning to make some limited edition bags with busy print fabrics just for fun.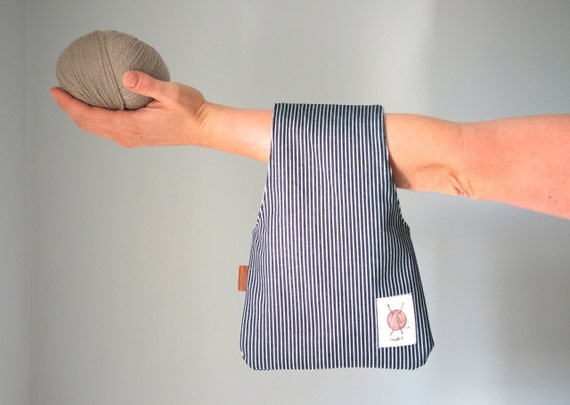 What kind of future do you see for your store? Do you think you will be adding other types accessories or expanding sales outsides of Etsy?
I already have knitting bags in a couple of stores locally and one in New York soon…
In the future, I will be adding other versions of the bags, other accessories. My mind is full, I just need more time… More time !